The relatively young Aptos blockchain advertises over 100,000 transactions per second (TPS), which should pave the way for the Web3 era. Similar to Solana, the protocol uses its own programming language (Move), which aims to tie developers to the ecosystem. A complete overview of Aptos.
The launch of Aptos was met with great expectations, due in part to the substantial VC funding and also to the origins of the Diem initiative, which was discontinued by Facebook. Over three years, more than 350 developers, including the brains behind Meta's Libra/Diem, created the Aptos blockchain. They wanted to develop it based on the principles of scalability, security, reliability, and extensibility to address the challenges of everyday blockchain problems.
Part of the enthusiasm was driven by the claim that Aptos would be able to process many more transactions than any current Layer 1 blockchain. However, when it emerged a day before trading that a large portion of the initial 1 billion token offering would go to key contributors, investors, and the foundation, expectations plummeted.
The vision behind Aptos
To enable mass adoption in the Web3 era, blockchain infrastructure is expected to follow the path of cloud infrastructure as a trusted, scalable, cost-effective, and constantly improving platform for building widespread applications. The rise of blockchains as the new Internet infrastructure has created numerous new applications. Developers are implementing diverse decentralized applications with the power of Web3, but the existing infrastructure is not yet sufficient due to frequent failures, high costs, low throughput limits, and numerous security concerns, according to Aptos founders.
The Aptos blockchain is said to offer new innovations in consensus, smart contract design, system security, performance and decentralization. The combination of these technologies, they say, will be a fundamental building block in making the Web3 accessible to the masses. At least according to those involved.
An early test of endurance
Aptos has not yet been able to deliver on these promises. When the blockchain was launched, the transactions processed per second (TPS) were 4 and a few days later still only 10. We have not yet seen that such enormous technical demands can be handled by the protocol. Of course, the infrastructure of the blockchain will improve over the months, but 100,000 TPS is not an easy promise.

Meanwhile, NFT trading was launched, which had put pressure on existing blockchains in the past. Various collections and thousands of NFT are already listed on the Topaz marketplace. Blockexplorer is currently pricing just under 10 TPS. Since the beginning of the highly hyped blockchain, 22.2 million transactions have been executed.
The dead live longer
Most of the core Aptos team members came from the unsuccessful Libra/Diem project, which was originally launched by former parent company Facebook. However, this drew massive criticism when it was first unveiled in late 2019. Libra also touted an innovative strategy to boost cryptocurrency adoption: a stablecoin that would be backed by cryptocurrencies, fiat currencies, and other assets. It was seen as having the potential to become a major reserve currency. This by saying the project would leverage the enormous user bases of meta-products. The three social media websites Facebook, WhatsApp and Instagram have a combined monthly active user base (MAU) of around 6.5 billion.
Libra was slow to comply with regulators' demands, distorting the original idea beyond recognition. Fundamental ideas were dropped and the project, renamed Diem, was only supposed to be a dollar stablecoin. Eventually, this too was discontinued. In hindsight, Meta's cryptocurrency was already dead when it arrived due to people's deep-rooted distrust of Facebook after years of privacy violations.
Facebook invested heavily in the Libra/Diem project as part of this effort, which led to the development of innovative blockchain scaling tools and the Move programming language. These are now being used for Aptos, and the resulting blockchain aims to relaunch without the burdens of Facebook's Diem.
APT tokenomics
Aptos' tokenization strategy is similar to that of its competitors Solana, Near, and Flow. They all use a large portion of the issuance to incentivize DeFi and NFT activity on their blockchain. Right now, 130 million tokens are in circulation, meaning tradable and thus relevant to market capitalization. However, there are already a total of 1 billion tokens that have been minted. About 80% of these tokens are staked and remunerated at 7% per year.
Staking rewards increase the overall supply of Aptos tokens and are dependent on the size of the stake and the performance of the validator. Currently the transaction fees are burned, this may be reconsidered in the future with an on-chain governance vote.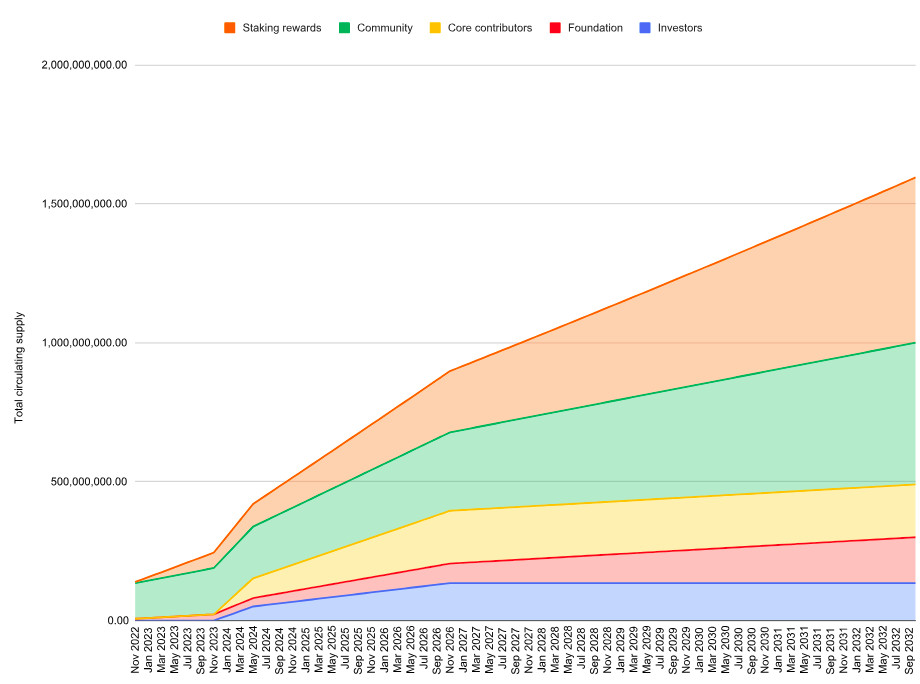 Over 51% of the tokens are intended for the "community," which will likely be awarded to those who create or use applications and protocols on Aptos. But tokenomics indicate that much of the APT will go to the Aptos Foundation, Aptos Labs, and VC investors. Arguably, this becomes relevant when on-chain governance comes into play. This is because all rewards and reward mechanisms can be changed via it. A majority of votes decides on the change. Thus, the actual control over the blockchain lies in a small circle of stakeholders.
Valued at 2 billion
The project was valued at USD 2 billion in private investment rounds prior to launch and currently has a market capitalization of just under USD 1.2 billion. In the seed round on March 15, 2022, $200 million were raised. It funded well-known giants such as Andreessen Horowitz, Three Arrows Capital, FTX Ventures, Paxos, Coinbase Ventures and several others. In the Series A on July 25, some of the seed investors participated and together raised another USD 150 million. Binance Labs funded a venture round and Dragonfly Capital funded a venture round in September. Both sums remain undisclosed.
The investors' tokens are subject to a lock-up period of up to four years. However, the deposited funds are currently compensated with 7% annual interest on the stake. The maximum compensation rate decreases by 1.5% annually to a floor of 3.25% promised over 50 years. These gains are exempt from the lock-in period and can be steadily sold on the market. This will also increase the tradable tokens, which will likely create renewed price pressure. Not too surprisingly, a majority of the crypto community has been critical of Aptos as a result.
Aptos is broken.

Aptos launched today - October 17, 2022 at 14:22:40

However, Aptos is currently has a lower tps than Bitcoin and a majority of tokens are either staked or ready to be dumped on retail investors.

Curious? Thread Below
?

— Paradigm Engineer #420 (@ParadigmEng420) October 17, 2022